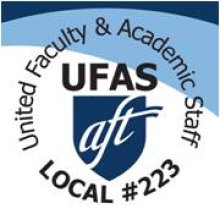 United Faculty and Academic Staff (UFAS), American Federation of Teachers Local 223, AFL-CIO, thanks everyone who has supported our campaign to end intimidation of workers at the University of Wisconsin–Madison.
We have exceeded our goal for petition signatures: over two months we have collected, online and on paper, over 500 signatures from supporters on the UW–Madison campus and elsewhere in the UW System, in the state of Wisconsin, and nationwide.
With such broad support, UFAS pledges to continue working to improve the pay, due process rights, and job security of academic staff and faculty at UW–Madison and UW–Extension, and to defend our right to criticize our working conditions without retaliation. We hope we can continue to count on your support in the future.
For more information about UFAS, please visit our website or Facebook page.