Supreme Court Endorsement
We're excited to announce the AFT-Wisconsin's endorsement of Judge Janet Protasiewicz for the Wisconsin Supreme Court race. The current court has been governed by a narrow 4-3 conservative majority, but that can completely change by electing Judge Janet Protasiewicz. We have an opportunity to bring an end to the terrible story of gerrymandering in this state, protect reproductive rights, and stop challenges to our elections like those from State Rep Robin Vos.
Sign on here to Get Involved! This primary is just as important as the general election. While there's a chance two conservative judges make it through, we must ensure there's a progressive option on the ballot.
Another way you can help is by telling your own story. Share what about this race is important to you here - https://www.aft-wisconsin.org/share-your-story-wi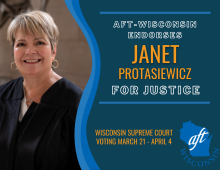 Early voting for the election begins March 21 and voting continues through the close of polls on April 4th.
Find out your early voting options - https://myvote.wi.gov/en-US/Vote-Absentee-In-Person
Or request a mail in ballot - https://myvote.wi.gov/en-us/Vote-Absentee-By-Mail
We have endorsed 3 other local candidates across the state so far!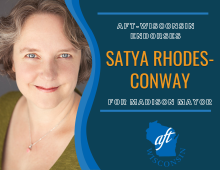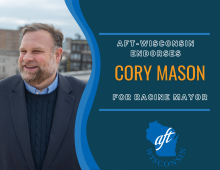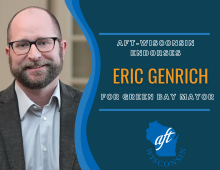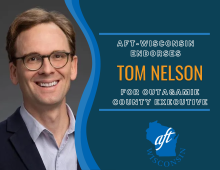 Member contributions to our Committee On Political Education (COPE) go straight to the organizing efforts we're building throughout this spring. http://donate.billhighway.com/AFTWICOPE