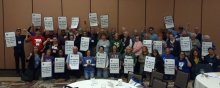 Our Vision:  We are a courageous union whose members collectively forge a future in which working people build just and democratic workplaces and communities.  
AFT-Wisconsin is your union. We are a union of professionals working in the University of Wisconsin System, the Wisconsin Technical College System, public schools, and state agencies. Through collective action in our workplace and communities, we help ensure affordable and high-quality public education and services. We create democratic workplaces where workers who know the jobs best have a say in how the institution is run. We fight for fair compensation and working conditions. In solidarity with workers across the country and the world, we fight for a just and equitable society for all.
Background:
Formerly called the Wisconsin Federation of Teachers, AFT-Wisconsin is a Wisconsin chapter of the American Federation of Teachers. Started primarily as a teachers' union in 1931, AFT-Wisconsin today is comprised of many diverse professionals with over 500 job classifications. 
Members of AFT-Wisconsin are organized into local unions, each representing workers in a specific area. Local unions with similar areas of interest belong to one of six constituency councils, and retired AFT-Wisconsin members are part of the Retiree Council:
Graduate Employee Council - Graduate employees at UW-Madison and UW-Milwaukee
Higher Education Council - Faculty and academic staff in the University of Wisconsin System
Paraprofessional and School-Related Personnel (PSRP) Council - PSRP employees in both PK-12 school districts and the WTCS
PK-12 Teacher Council - Teachers in Wisconsin public PK-12 school districts
State Employee Council - Professional employees of the State of Wisconsin
WTCS Council - Instructional staff in the WTCS
Retiree Council - Retired members from all AFT-Wisconsin local unions